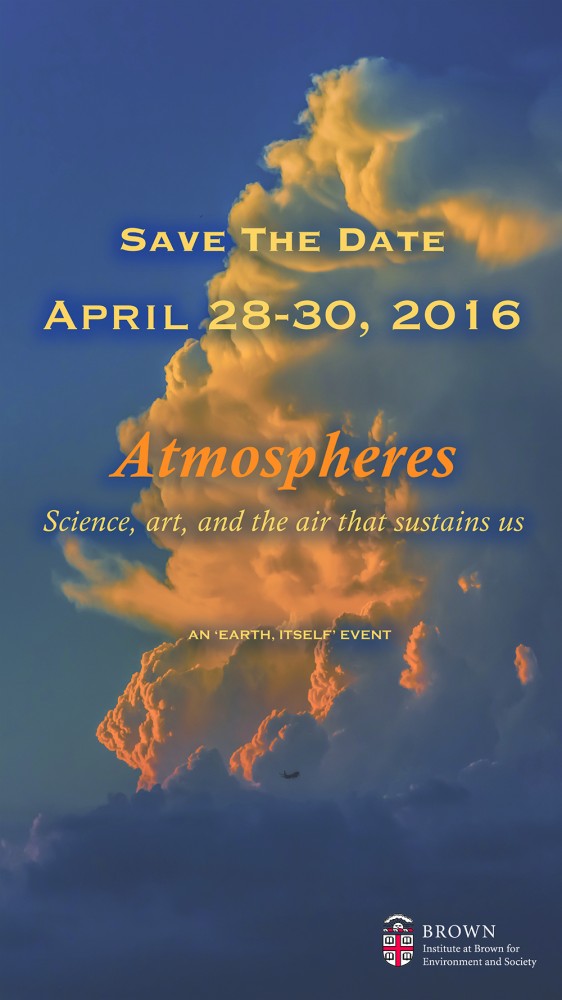 The Institute at Brown for Environment and Society sponsors an interdisciplinary program under the title of Earth, Itself, designed to stimulate conversations and collaborations across the natural and social sciences, humanities and the arts.
On April 28-30, 2016, we present Atmospheres, on air, climate and the environment. We will explore such topics as atmospheric circulation and weather; air as habitat -- insects and birds; air pollution and quality of air; and legislating, governing and controlling air. The arts practice, curated by Brown scholar and artist, Ed Osborn, includes sound art, installations, and music, involving visiting artists and Brown students. Concurrently, the John Carter Brown Library will mount an exhibition on air and climate in the early modern world, part of its four-year series on The Four Elements that explores new ways of engaging – through environmental history – with its renowned collection of books, maps, and prints.
Presenters include Kenyan Dr Mwangi Githiru, an ornithologist and Director of Biodiversity and Social Monitoring at Wildlife Works, Kenya; Michael J. Hathaway (UBC), author of Environmental Winds; Cymene Howe (Rice U), who works on the politics of wind in Yucatan; sound artists and acoustic ecologists Leah Barclay (Griffith U, Australia), Lawrence English (Australia), and Garth Paine (Arizona State U); Bina Venkataraman, Director, Global Policy Initiatives, Broad Institute; Tongzhang Zheng, Center for Environmental Health and Technology at Brown; Scott Turner, Director of Web Communications at Brown, and weekly nature commentator for the Providence Journal; and Wendy Woodson, Professor of Theatre and Dance at Amherst College. The activities will sound and theatre performances, a PechaKucha program, and, as last year, a poster competition.
The program is open to students and faculty, policy makers, community members, and others who care about the environment, and thrive on scientific discovery, debate, controversy and sound. We look forward to your involvement.
Contact lenore_manderson@brown.edu for further information.