Kyzivat, who is a PhD student in Earth, Environmental and Planetary Sciences, is conducting this work using airborne imagery captured by the NASA Arctic-Boreal Vulnerability Experiment (ABoVE), along with unmanned aerial vehicle (UAV) imagery. Together with mentor, IBES fellow Laurence C. Smith, Kyzivat has shown that previous assumptions about water surface area may not be accurate, affecting greenhouse gas emissions estimates for lakes and wetlands. He hypothesizes that methane emissions are greater over wetland areas covered more densely by vegetation, which require high-resolution airborne data and ground surveys to map accurately.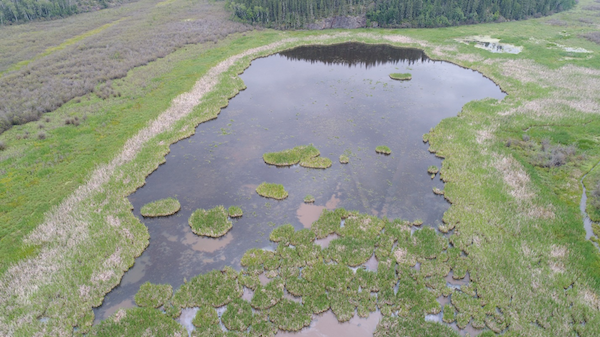 A cattail marsh in the Peace-Athabasca Delta in northeast Alberta, Canada. As Kyzivat explains, the difference between wetlands and lakes is not consistently defined between studies. Photo: Jessica Fayne
This work is important for better understanding atmospheric greenhouse gas levels, specifically with regard to environmental contributors of methane. Kyzivat explains:
Methane is the second-most abundant greenhouse gas after carbon dioxide, but has a global warming potential 25 times as great. Globally, wetlands are the largest natural emitters of methane to the atmosphere, followed by lakes and rivers. However, one of the largest sources of uncertainty in methane models is the distribution of water on the landscape, with small water bodies not visible from space requiring extrapolation estimates. There is evidence that these small waterbodies may emit more methane than their larger counterparts. In addition, wetland vegetation has been shown to be a significant pathway for methane emissions, as plant tissue can act as a conduit between methane-producing sediments and the atmosphere. If models were better able to assimilate information on size and vegetation coverage, they would likely show better agreement.
Kyzivat will receive support for his proposal entitled "Hidden lakes: high resolution water mapping and methane emissions over the ABoVE domain," and will travel to Alberta and Northwest Territories, Canada for ongoing field work.