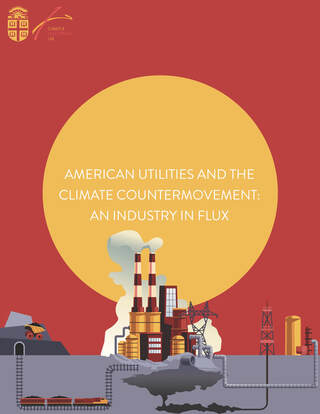 American Utilities and the Climate Change Countermovement: An Industry In Flux
A report by Cole Triedman, Andrew Javens, Jessie Sugarman, & David Wingate
A team of four researchers at the Brown University Climate and Development Lab has released a 73-page report investigating ten large investor-owned utility companies. These companies were identified as historically central to the climate change countermovement, a complex network dedicated to opposing climate action and undermining science for the last three decades.
The report profiles Southern Company, American Electric Power, Duke Energy, Dominion Energy, FirstEnergy, Ameren, DTE Energy, Entergy, Consumers Energy, and Xcel Energy. It investigates each company's business and political networks, political activity and spending, and future climate plans.
Key Findings
An elite cohort of coal, rail, and the utility companies have long nurtured close business relationships, and have coordinated closely in anti-climate action political organizations.
All major utility companies have future plans on climate change that initially appear ambitious. In reality, most demonstrate intensive future investment in natural gas and reliance on not-yet-marketable technologies.
This team at Brown has taken the most comprehensive dive to date into how the coal industrial complex has worked for decades to delay and derail government policy aimed at solving global warming.

– Kert Davies, Climate Investigations Center
This story originally appeared at the Climate Development Lab.