The new IBES course Arctic Climate and Policy: Winter Session in Bodø brought together eighteen undergraduates from three different universities and multiple disciplines, immersing them in the natural classroom of Norway's Arctic coast.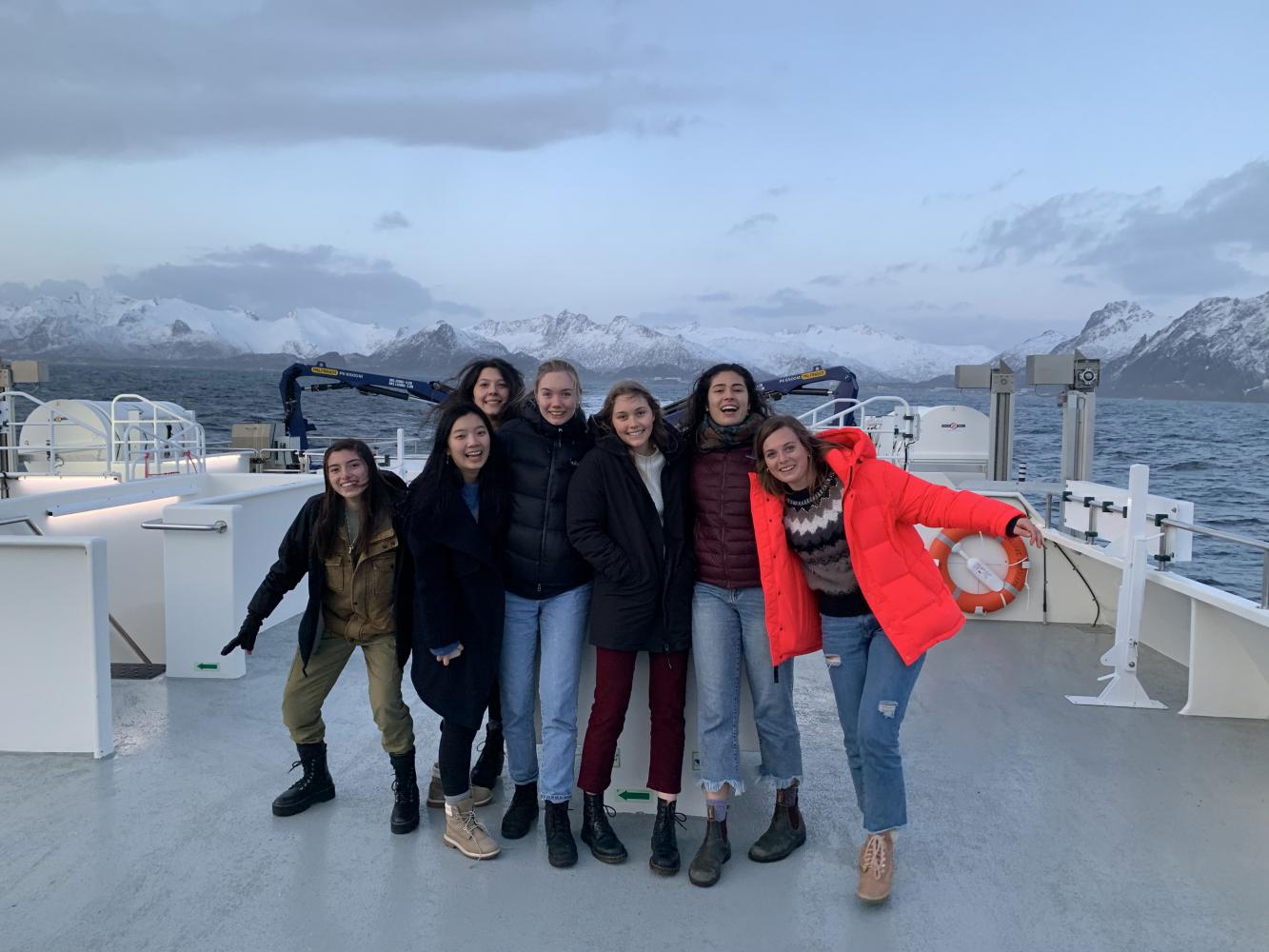 Students on deck of a ship heading from Svolvær back to Bodø after a weekend field trip on the Lofoten archipelago learning about conflict between traditional fishing communities and oil exploration. Left to right: Michelle Motley, Cher Ning, Dani Wang, Vida Steiro, Liv Thorson, Chiara Wadsworth-Arellano, Brooke Majewski.
The enrollees—a mix of concentrators in environmental studies, economics, anthropology, finance, and even German—spent two weeks amassing firsthand knowledge to answer the question, "what is it actually like living and working in today's rapidly changing Arctic environment?"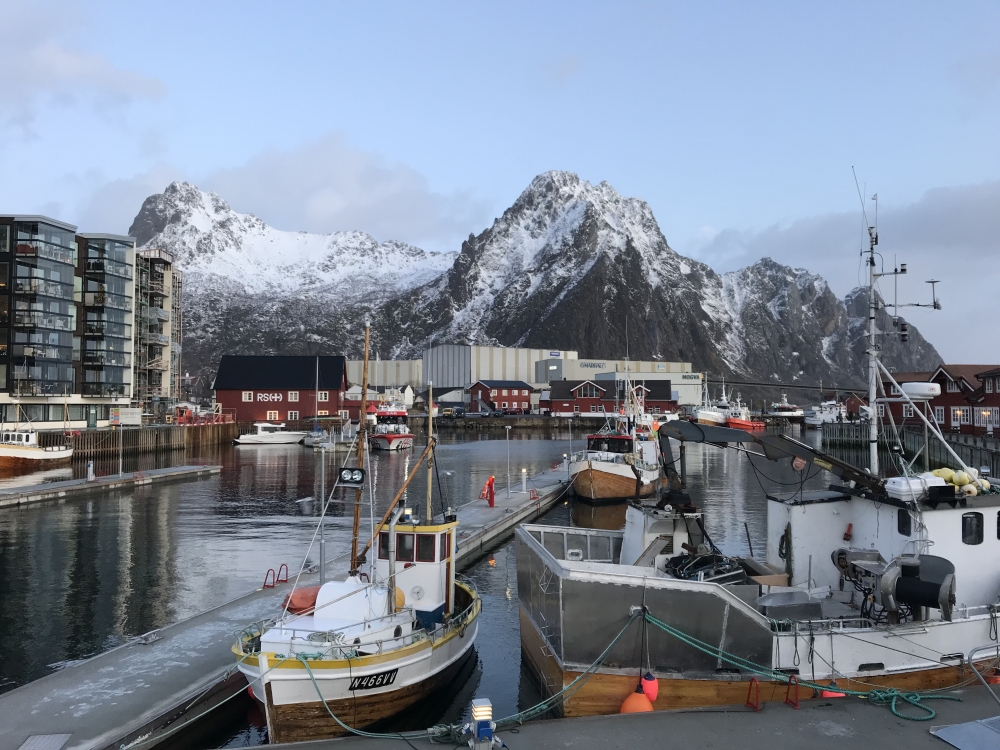 In the fishing and tourism hub of Svolvær, on the island of Austvågøya in the Lofoten archipelago.Amidst hiking, workshops, lectures, and field trips, students also spoke with those on the front lines of Arctic change: cruise ship operators, extreme adventure tourism guides, anthropologists who study interactions between Sámi and Nordic peoples, and locals contemplating the planned uprooting of the region's NATO defense base.
In small groups comprising one undergraduate from each university, students conducted independent research to outline the effects of environmental change on six different Arctic nations. To Lynch, this diversity of expertise was one of the things that made the course so successful.
"Requiring an environmental studies student to work closely with a student who has selected finance as their career—it's that kind of crosstalk that I think was really useful," she says. "The students would be discussing a particular challenge, and even the metrics by which they measured success were different. They had to negotiate that."
Lynch and professors Michael Goldstein (Babson College) and Trude Storelvmo (Nord University) designed the course in an effort to offer a more nuanced view of the Arctic under climate change.
"We wanted to go beyond the image of the polar bear on the melting ice floe," says Lynch.
The group climbs up to Keiservarden, a plateau at 366m on top of Veten hill near Bodø, to shake off jet lag on day one.And they wanted to do it when the local environment was at its most unforgiving. Arctic summers are short but beautiful, explains Lynch. The near-24 hours of daylight and warm temperatures of summertime obscure the harsh reality of day-to-day living during the winter months.
"The combination of darkness and severe weather—both of which are pretty much continuous in January, February, March—is what makes operating in the Arctic so challenging," she says. "Just the fact that it's cold is not enough to explain what it takes to live there and to thrive, and it seemed to me that the way that students would understand that best is if they actually experienced it."
And despite the darkness, the jet lag, and the unpredictable weather, students and professors alike reported the class to be an immensely positive and useful experience.
"Studying in Bodø helped me to understand Arctic climate policy from within, as we experienced the effects of climate change and heard from Norwegians about the ways their lives had changed in recent years," says Olivia Howe '22. "It was an incredible opportunity to learn a lot of information very quickly, both from the fantastic lectures we heard from American, Norwegian, and Swedish experts as well as from the daily explorations we had of the local landscape, community, and economy."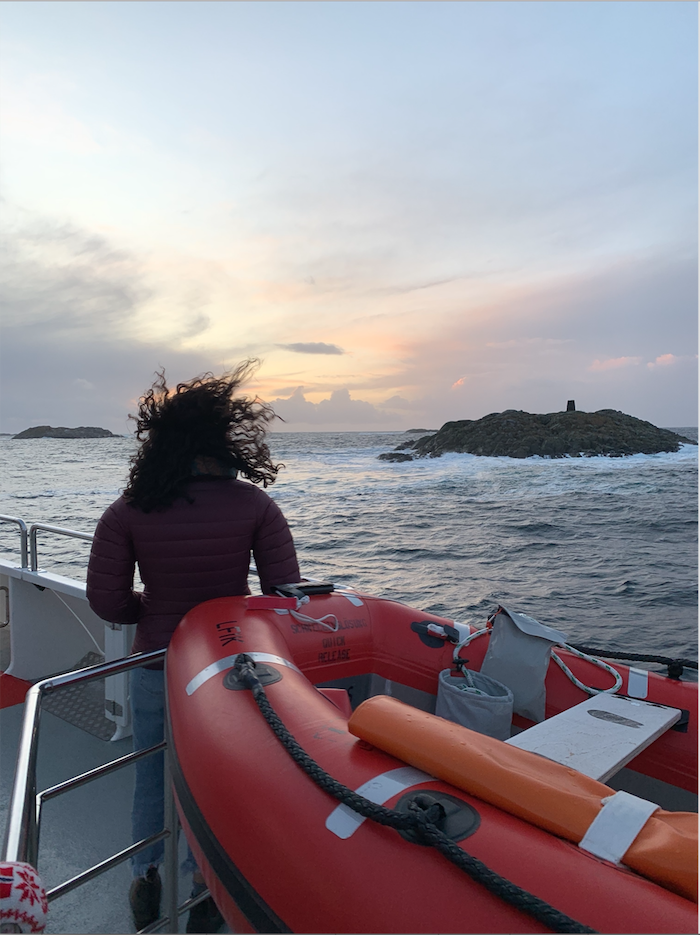 IBES undergraduate Chiara Wadsworth-Arellano '20 looks toward Bodø."This experience is definitely once in your lifetime!," adds Nhu Phung '21. "The Arctic and its people are particularly vulnerable to climate change, and its future will affect us all. It was fascinating to get to conduct mini research projects, learning about traditional knowledge and issues of equality along with these environmental issues. And we got to hike a ton in the Arctic to boot!"
For Lynch, being so far from College Hill had added benefit.
"I really appreciated the capacity to have two weeks where all I had to do was focus on the students and not think about anything else, and not always be pulled away," says Lynch. "That helped me really just be there and in the teaching moment in a way that is very hard to do on campus."
"I want to do it again," she says. "It was just so worth it."