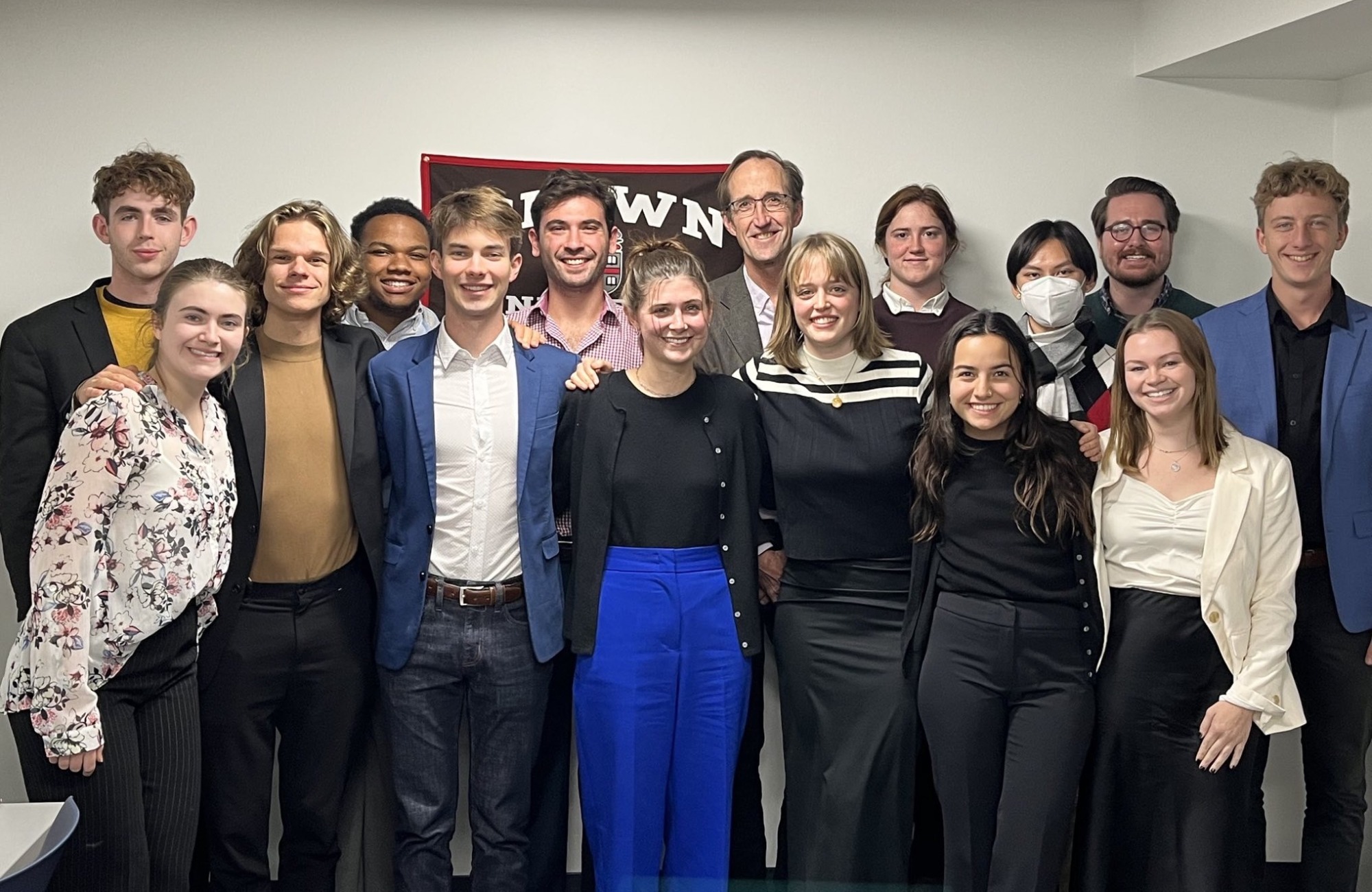 "Climate Policy Research - Organizations and Obstruction" (ENVS 1574) offers students a unique opportunity to engage with movers and shakers of United States climate policy. One of the Institute at Brown for Environment & Society (IBES)'s flagship courses, ENVS 1574 typically has four or five times as many applicants as it has spaces available. It is led by Professor Timmons Roberts and serves as an introduction for students interested in IBES's Climate and Development Lab (CDL), also led by Roberts. 
The CDL was established in 2010 as a student/faculty collaborative think tank — an experiment in engaged learning and scholarship. The Lab produces policy briefings, scholarly articles, and academic books, and has collaborated with research institutes around the world. A core strategy of the Climate and Development Lab is to share in-progress research with diverse organizations and experts, requesting input on findings and collaborating on ways to have more of an impact. 
A central aspect of ENVS 1574 is research, with students working in small groups on domestic climate policy. This fall, students participated in three distinct projects around science disinformation, public utility commissions, and climate lobbying efforts.
The first group, coordinated by teaching assistant and current IBES undergrad Grace Austin, sought to develop a systematic methodology to identify organizations who supported groups propagating science disinformation. Drawing on published literature and the advice of a consortium of faculty members at several peer institutions, the team created a tiered framework in which organizations could be classified by the amount of funding they provide to groups who advance science disinformation. Additionally, the team created a website — DenialDenied.org — which features a database of foundations who have funded disinformation campaigns from 2003 to 2018, allowing the public to track the activities of particular organizations. In light of Brown University President Christina Paxson's recent announcement that the University would no longer conduct business with organizations known to spread disinformation, the team also offered their methodology as an implementation tool to the University and any organization with similar commitments.
Another group of students, led by Postdoctoral Research Fellow Jared Heern, has started a project to investigate state-level public utility commissions (PUCs). Simply put, PUCs are state-level bodies who regulate utilities through quasi-judicial hearings. Although there has been recent increased public awareness of PUCs' influence over electricity policies and thus, climate policies, these regulatory bodies remain poorly understood and under-researched. A team of six ENVS 1574 students spent the semester combing through PUC dockets to identify companies and groups who appear before the boards, and what positions they are taking. The goal is to better understand the role PUCs play in directing climate policy.
The third group, coordinated by IBES's Climate Social Science Network (CSSN) Research Specialist Galen Hall, worked to piece together the lobbying landscape of climate and energy policy in the United States. To understand who influences state-level policies, identify coalitions of organizations who often lobby together, and uncover the nuanced relationships therein, the team developed coalition network maps, which visually reveal these actors and their relationships. This work is informed by a first-of-its-kind dataset developed by the Climate Development Lab, and consists of tens of millions of lobbying records across various policy areas. The team has conducted background research and interviews with relevant state actors to contextualize their findings. The students' research can provide a framework to understand the unique lobbying landscapes of different states, help to inform grassroots lobbying efforts, and ultimately pass climate legislation.
From Research to Real-World: Students Travel to Washington, D.C.
The high point of the "Climate Policy Research" course is a week-long trip to the nation's capital where students meet with individuals and organizations working on climate policy. The class took the Amtrak down to D.C. on Sunday, November 13, and kicked off the trip with dinner with recent CDL alums. Over the course of the week, the class met with officials and stakeholders across the climate policy work spectrum, spending time both on the Hill — with Senator Sheldon Whitehouse and three members of the House of Representatives — and off of it, with representatives from climate-focused NGOs, including the Sunrise Movement, U.S. Climate Action Network, the Union for Concerned Scientists, and Friends of the Earth. They also met with representatives from conservative think tanks and oil & natural gas trade associations to unpack conservative arguments against climate action, and public relations firms & journalists to understand the media's role in climate policies. These meetings were designed to help students explore professional pathways and understand various viewpoints and approaches to climate work. The meetings also allowed professionals to learn from the students' research projects. 
Students presented briefings on their research to representatives working on national and state-level climate policy and climate disinformation, including the Center for American Progress, staff from the House Oversight Subcommittee on the Environment, Georgetown University's Climate Center, and George Washington University's School of Public Health. These actors engaged with the research: asking questions, connecting findings to their own work, and offering feedback for future directions. They also noted the value of the CDL's findings to their own research, as well as the impact on the viability and durability of successful climate policies.
By speaking with a variety of stakeholders about their research, students in "Climate Policy Research" learned methods for communicating research findings and fostering collaborations. Back on campus in Providence for the remainder of the semester, the groups incorporated the feedback they received to dive deeper into their research, and roll it out in engaging, digestible formats. Students described how the trip was not only helpful in steering current and future research, but was also motivating — for both academic pursuits and career exploration. Having engaged directly with groups who are taking unique approaches to address climate change sheds light on potential professional paths for students; such impactful interactions instilled a sense of excitement to pursue this work following graduation from Brown.
For more information on the Climate Development Lab (CDL), visit their website.
For more information on the Climate Social Science Network (CSSN), visit their website.
For more information on the Institute at Brown for Environment and Society (IBES), visit their website.
For media opportunities or more information regarding any of these initiatives, reach out via email.