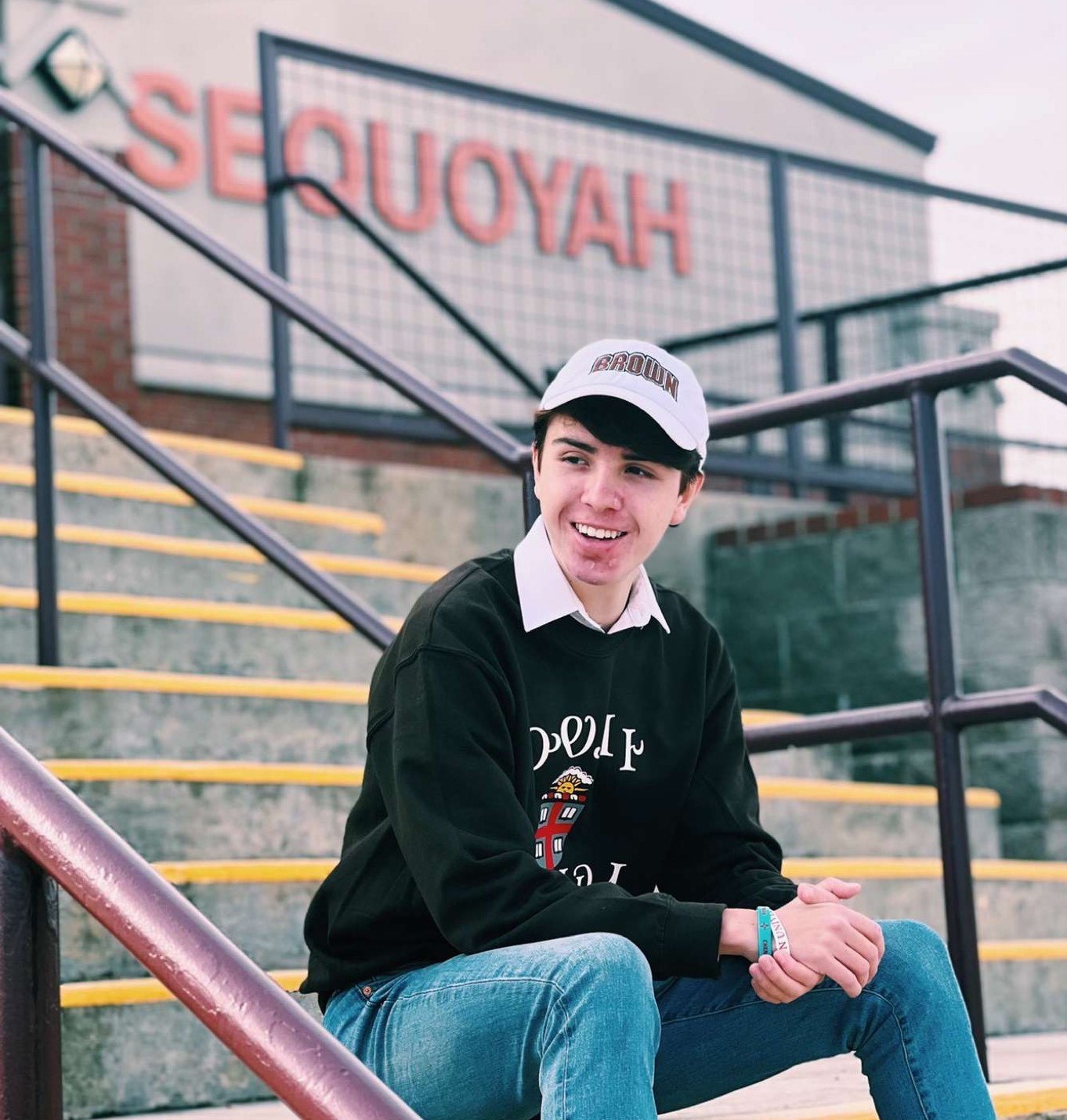 At the intersection of indigenous ecological wisdom and environmental studies is where you'll find Anagali (Shace) Duncan, a first-year student here at Brown studying environmental science and Native American studies. Hailing from Stilwell, Oklahoma, located centrally in the Cherokee reservation, Anagali recognizes that indigenous wisdom has historically been excluded from environmental science although indigenous peoples have stewarded the land for generations. Through his scholarship at Brown, Anagali seeks to find common ground between indigenous ecological knowledge and 'western science.'
One of 13 siblings, Anagali is Keetoowah, Muskogee Creek, Seneca-Cayuga, and Cherokee. At Brown, his heritage informs his work as co-coordinator and freshman representative for Natives at Brown, a member of Students for Justice in Palestine, a member of the Brown and RISD chapter of the Sunrise Movement, and a member of the Brown Research Club (BRC). 
Duncan views his time at Brown as an opportunity to bring his community into the folds of traditional scholarship by elevating their voices. His father and brother instilled in him the importance of education, and continue to serve as mentors and sources of inspiration. 
Anagali believes that if indigenous youth keep pushing for a seat at the table, change will come. "I want indigenous youth to be at the forefront of environmental studies because we have thousands of years of environmental knowledge. I want these spaces to be more accepting of our mindsets. Our voices are very faint even though we have so many answers."
Although initially struck by the contrast between what he calls 'western science' and the type of environmental knowledge he is accustomed to from back home, he views his academic experience in the ENVS program at Brown as particularly inclusive thus far. Specifically, Anagali's professors hold space for dialogues around indigenous wisdom in the classroom. "The [ENVS] professors I've had have been amazing," he remarked. "They really do listen to me, because they realize that I have something to bring to the table that maybe they don't know much about."
Anagali cites the spiritual significance of water to the Cherokee people as a key driver for his interest in environmental justice, having experienced threats to local watersheds by contamination from industrial waste. "We use water as a cleansing of our soul. It's very much a way that we take care of our mental health," Anagali explained. "And one day when I was little, my dad [said to me], 'We can't use that water anymore because it's polluted and people are getting sick.' [Pollution] made our water unusable and dangerous for us to practice our traditions."
Recognizing that the pollution his community experiences is a symptom of widespread environmental threats, Anagali calls for increased cooperation and engagement among the general public. "This is a fight for everybody," he remarked. 
"[My classes have] showed me so many powerful things, like how other marginalized communities are working for their people, and how at the end of the day, we are all working for the same goal," Duncan continued. "How we go about it may be different, but we're all just trying to protect the world, and that is very uplifting."
Throughout the spring, the Institute at Brown for Environment and Society (IBES) will celebrate the unique and essential contributions of members of our community; recognizing a diverse set of values, lived experiences, and cultural identities as crucial to our work. Stay tuned to our website and social media for more stories to follow.  
Founded in 2014 and housed at Brown University, the Institute at Brown for Environment and Society (IBES) is an interdisciplinary institute for climate, sustainability, and environmental education and research. At this dynamic cross-campus center, IBES faculty and students conduct groundbreaking research, and future leaders are prepared to envision and build a just and sustainable world. Empowering people, protecting places.