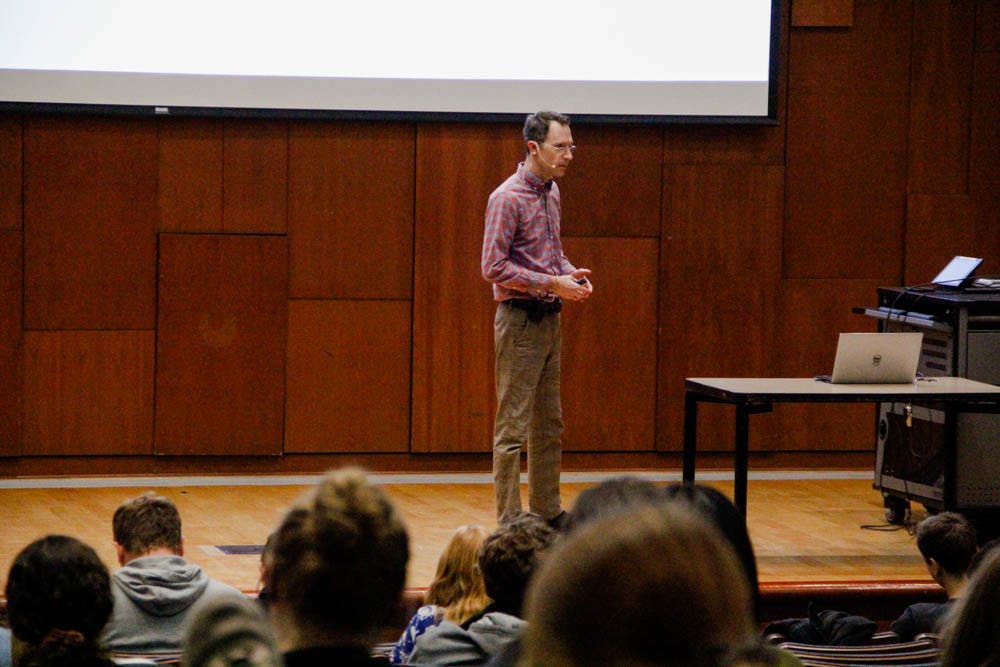 James Kellner — IBES' Director of Early Career Development and Training and Associate Professor of Environment and Society and Ecology, Evolution, and Organismal Biology — recently received the University's Elizabeth LeDuc Award for Excellence in Teaching in the Life Sciences. The award celebrates Kellner's instruction of his ever-popular course, BIOL 0210: "The Diversity of Life."
Upon joining the Brown community, "I set out to make a contribution to something bigger than myself," Kellner said, "and I see teaching from that point of view — I'm there to serve." From that goal, "The Diversity of Life" was born.
Kellner constructed the course as a first-of-its-kind gateway biology class "that touches on all of the fascinating things about the history of complex life, and distills that into one semester of content," he said, expressing that he is grateful to have been recognized for his efforts.
In its first year, the course welcomed 40 students; now, BIOL 0210 is among the University's largest classes, garnering close to 400 undergraduates last fall. In total, nearly 2,000 students have taken "The Diversity of Life" since it was first offered in 2014.
"I'm proud of the fact that everybody in my class is there because they want to be," Kellner said, referring to the fact that the course is not mandatory for any concentrations. 
Despite such high enrollment rates, Kellner works to foster interpersonal connection outside of the lecture hall — for example, by holding review sessions with students before every exam. "I tell [students], I'm not leaving until the last question is answered," he said. "And I do that partly because I enjoy it, but also because I had a professor who did that, and the impact that had on me was enormous. I'm a professor because of him."
Many students have told Kellner that his course inspired them to study biology, geology, or environmental science. But "The Diversity of Life" offers more than an introduction to evolutionary biology — it allows students to understand their own place in the world. 
"There's the surface level, where we are learning about the history of complex life," Kellner remarked, "but beneath the surface, there's a metaphor, a story about what the history of life says about us." It is this dimensionality, he said, that keeps seats filled and students engaged.
One key lesson that Kellner seeks to impart on his students is that, in the course of evolution and our individual lives, "chance happens. … Adversity has always existed and will always exist, from the beginning of time until the end. You can't change it, but you can control how you react. You can also avoid becoming consumed by it," he said.
Kellner ultimately hopes students leave his lectures with a sense of optimism and the feeling that they can handle life's unavoidable ups and downs. Developing a positive mindset, he noted, "does not mean that you're saying negative things don't exist. It just means that you're seeking something of meaning so that you can sustain yourself."