Institute at Brown for Environment and Society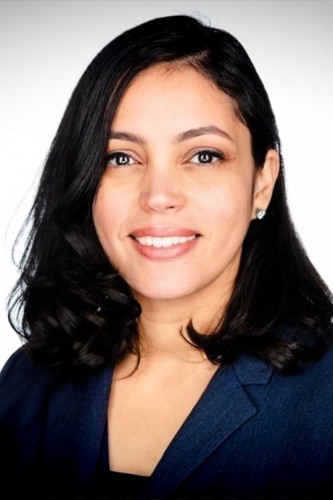 Olga Abinader
Director of Environmental Review and Land Use Planning and ESG Lead, Matrix New World Engineering
Olga Abinader, ENV SP, is an environmental and sustainability professional with over 15 years of urban planning, environmental disclosures policy, public speaking, and leadership experience in the public and private sectors. Abinader is the Director of Environmental Review and Land Use Planning and ESG Lead at Matrix New World Engineering, a renowned environmental consulting firm solving national and global challenges in climate change, infrastructure, transportation, and energy. 
Born in the Dominican Republic, Abinader emigrated with her family to Salem, Massachusetts in the early 1990s. Her family maintained strong connections to their Caribbean heritage by speaking only Spanish at home. As a fully bilingual English and Spanish speaker, Abinader translated for family and friends who had limited English skills. In 1999, Abinader assumed a leadership role in the "La Union Latina" organization, established in 1987 at Salem High School to celebrate Latin-American culture and traditions.  In 2007, the preeminent Latinx media group Hispanic Business recognized Abinader as a Winner's Circle Scholar at the Hispanic Business Inc. Woman of the Year Awards event.
Over the course of her career, Abinader has been honored with numerous speaking engagements, awards, and recognitions, including: Guest Speaker on the ¿Que Pasa, NJ? PBS Talk Show (2022), LatinX Podcast with Randy Gomez (2022), and 'WRNJ Morning Drive Show' with Host Bert Baron; the Manager of the Year Award (Joe Salvo Award) at the New York City Department of City Planning, New York, NY (2019); Scholarship Honor and Guest Speaker at the 5th Annual Hispanic Business Woman of the Year Awards, Las Vegas, Nevada (2007); Panelist Speaker at the New Jersey Hispanic Chamber of Commerce, The Art of Being a Modern Latina Event, Lyndhurst, New Jersey (2022); and Podcast Guest and Committee Member for the "Today Is The Day Changemakers" organization, a global digital platform for leaders making a significant positive societal impact (2022). 
Abinader was recently recognized by Crain's New York Business as a '2022 Notable Hispanic Leader' Honoree. Abinader also gives her time to W.I.D.E. (Women for Inclusion, Diversity + Equity), a volunteer group that promotes the inclusion and equality of all people through education and community outreach in rural communities of upstate New York.
As the former Director of the Environmental Assessment and Review Division with the NYC Department of City Planning, Abinader led hundreds of active City Environmental Quality Review (CEQR) applications to support transit-oriented growth, housing production and affordability, economic development, and resilient and sustainable communities across NYC. Abinader received her Master of Urban Planning from Harvard University, Graduate School of Design, and holds a Bachelor of Arts in Urban Studies from Brown University.