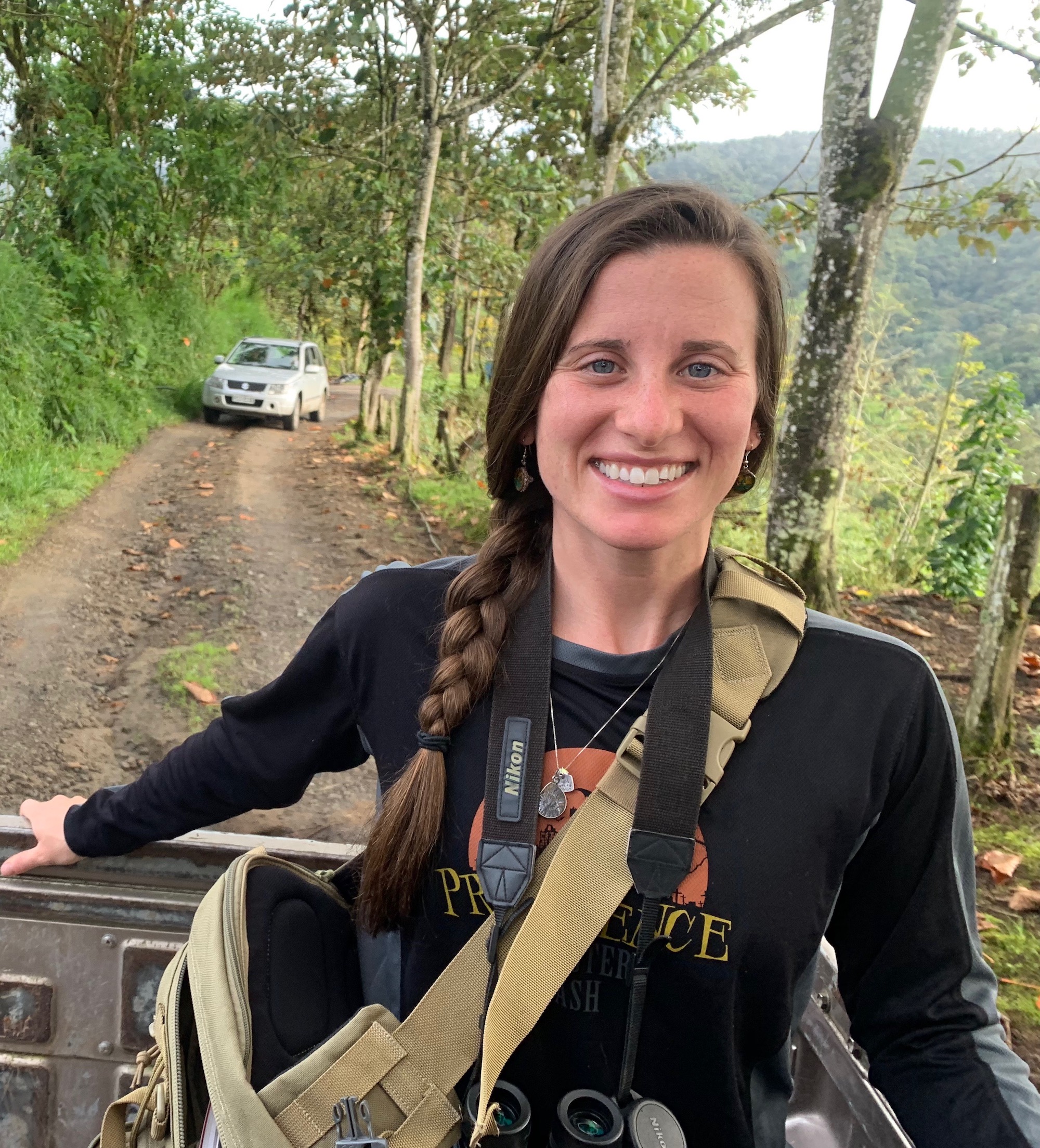 Hollenbeck studies the impact of climate change on tropical montane forests, with a focus on epiphytes: plants that grow on top of other plants in the rainforest canopy.
Her interest in the topic began when she studied abroad as an undergraduate in Costa Rica, where she was exposed to ecology and conservation science for the first time. "It completely changed my life," she recalls. "I fell in love with the forest."
There, Hollenbeck developed a concern for natural ecosystems and decided to dedicate her career to protecting the fragile landscape.
She earned her PhD in Ecology and Evolutionary Biology from Brown in 2018, where she recalls developing close bonds with her peers and her advisor Dov Sax. With his help, as well as with grants from the then-recently established Institute, Hollenbeck was able to travel to field sites in Costa Rica and Panama to complete her dissertation. 
Despite the lush scenery in which she conducts her work, Emily's research findings have been rather grim. Indeed, according to her work, climate change is putting the epiphytes she studies at severe risk of extinction.
"It's getting warmer and drier, and they can't tolerate those conditions," she says.
In order to survive, she says, these species will likely need to shift uphill, where it's more wet and cool; their ability to do so is therefore going to be crucial.
Though Hollenbeck has struggled to come to terms with her discoveries, her work with the Monteverde Conservation League offers a great sense of solace and hope.
As the new president of the League, her main goal "is to develop a more robust research program... where someone can collect a lot of the baseline data that will make it possible for more researchers to come in and work," she says.
The Monteverde Conservation League manages an extensive amount of elevation, from around 400 to 1800 meters above sea level – the exact parameters of tropical space that Hollenbeck says require monitoring and protection.
"Both having that corridor and knowing how to manage it are the main next steps," she says. "It's why I'm really excited to be in a position where I can do something about that."
The Conservation League, explains Hollenbeck, was founded with the goal to "protect huge amounts of forest...eternally." The land she works to sustain – called Bosque Eterno de los Niños, or The Children's Eternal Rainforest – is Central America's largest private reserve.
She hopes that the existence of the League will "help us long-term, both economically, and in our ability to know how to protect the forest as the climate changes," she says.
In addition to working with the Conservation League, Hollenbeck has been teaching and writing curricula for Avenues, a K-12 school with campuses around the globe.
"I'm trying to put myself in a position where I can help the next generation with the momentum they need to make large-scale change," she says. 
By getting students to "really think outside the box," she says, she hopes to inspire them to "do stuff that the generations before them were unable to do to take care of this planet."
"These ecosystems are the only thing that we have," she says.
Though constantly busy, Hollenbeck deeply enjoys all of the work that she does.
"I love being in the field. I love pushing myself," she says. "And I love showing young people that they can push themselves too."