The power of one teacher, one course, to change a student's life is indisputable, and Vasu Jayanthi '23 is no exception. Growing up, Jayanthi was deeply committed to studying math in college, until she enrolled in one particular class that changed the course of her educational career. "AP Environmental Science made me realize all the different angles through which to approach any single environmental issue," she said.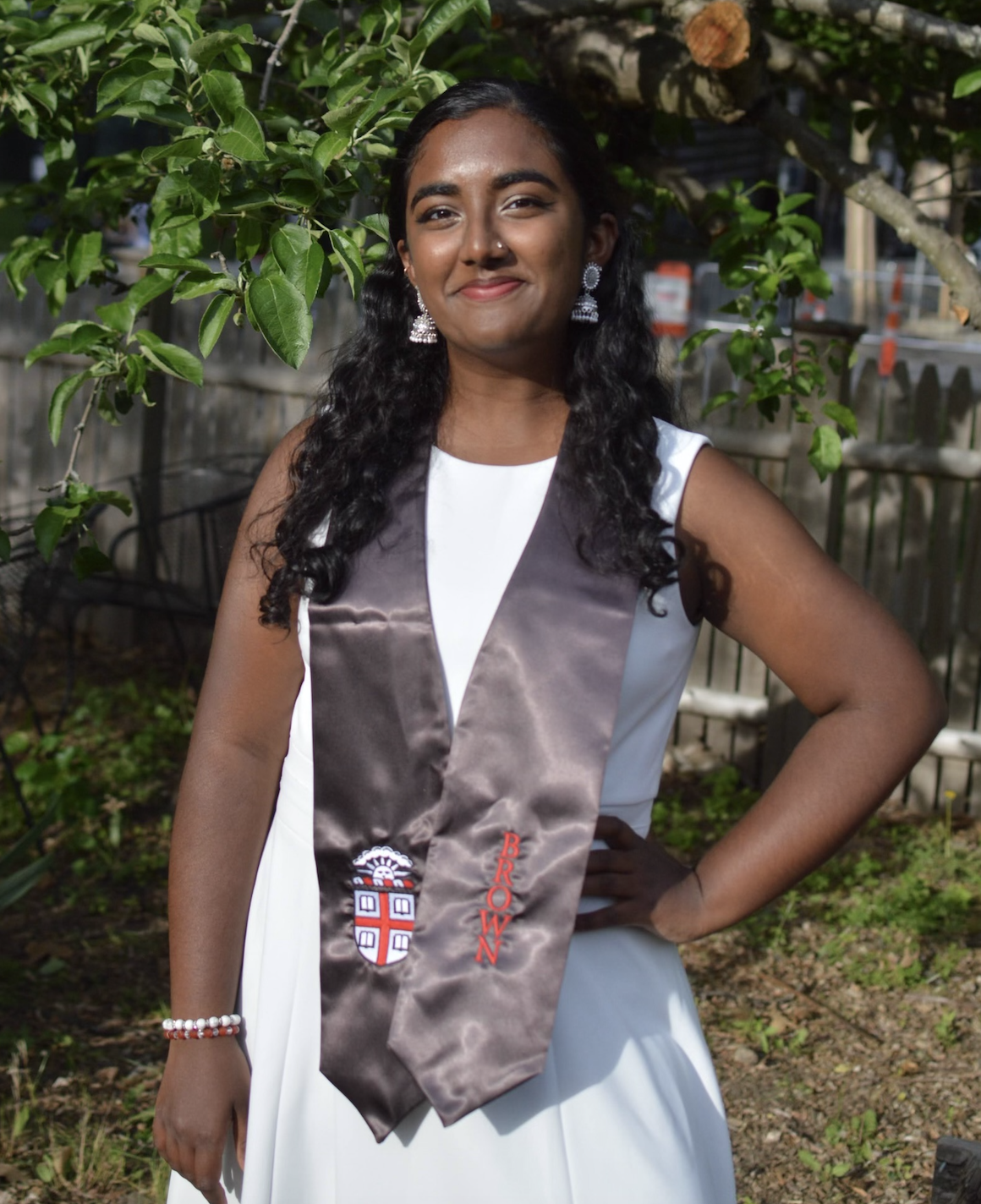 That budding interest was further nurtured in her first-year seminar at Brown, ENVS 0070C: "Transcending Transportation Impacts." That course, colloquially and affectionately called "Tran Tran," evaluated different methods to reduce the transportation industry's environmental impact through changes in technology, policies, and urban design. "The transportation industry presents a huge opportunity to target environmental changes toward industrialized settings," said Jayanthi.  
Given the interdisciplinary approach to the Environmental Studies and Sciences concentration, Jayanthi felt empowered to explore different solutions to environmental issues; that approach, she said, kept her from feeling "boxed in." 
Today, Jayanthi is pursuing her Master's of Public Administration in Environmental Science and Policy at Columbia University, where she is a teaching assistant for a course focusing on city, landscape, and ecology.
Summer undergraduate experiences are enlightening
While at Brown, Jayanthi explored solutions to environmental issues through a variety of summer experiences. Following her freshman year, Jayanthi returned to her home state of Delaware to volunteer for the U.S. Senate campaign of Jessica Scarane, educating voters on Scarane's goals to promote conservation and support just clean energy solutions. Her next summer internship, sponsored by IBES, was at the Rhode Island Department of Environmental Management, where she helped recommend new environmental justice initiatives, draft a revised statewide environmental justice policy, and revitalize the Equal Opportunity Advisory Committee.  
And just as AP Environmental Science impacted Jayanthi's career focus, so did working with Breathe Providence, a hyperlocal air monitoring project housed at IBES. Through that summer work experience in 2022, Jayanthi discovered her specific environmental passion. 
"I was really excited to be a part of this initiative to better understand air quality and how it unevenly impacts vulnerable communities," said Jayanthi. Her work on the project formed the basis of her senior honors thesis, which focused on environmental education and the link between poor air quality and Providence's historically underfunded public school system.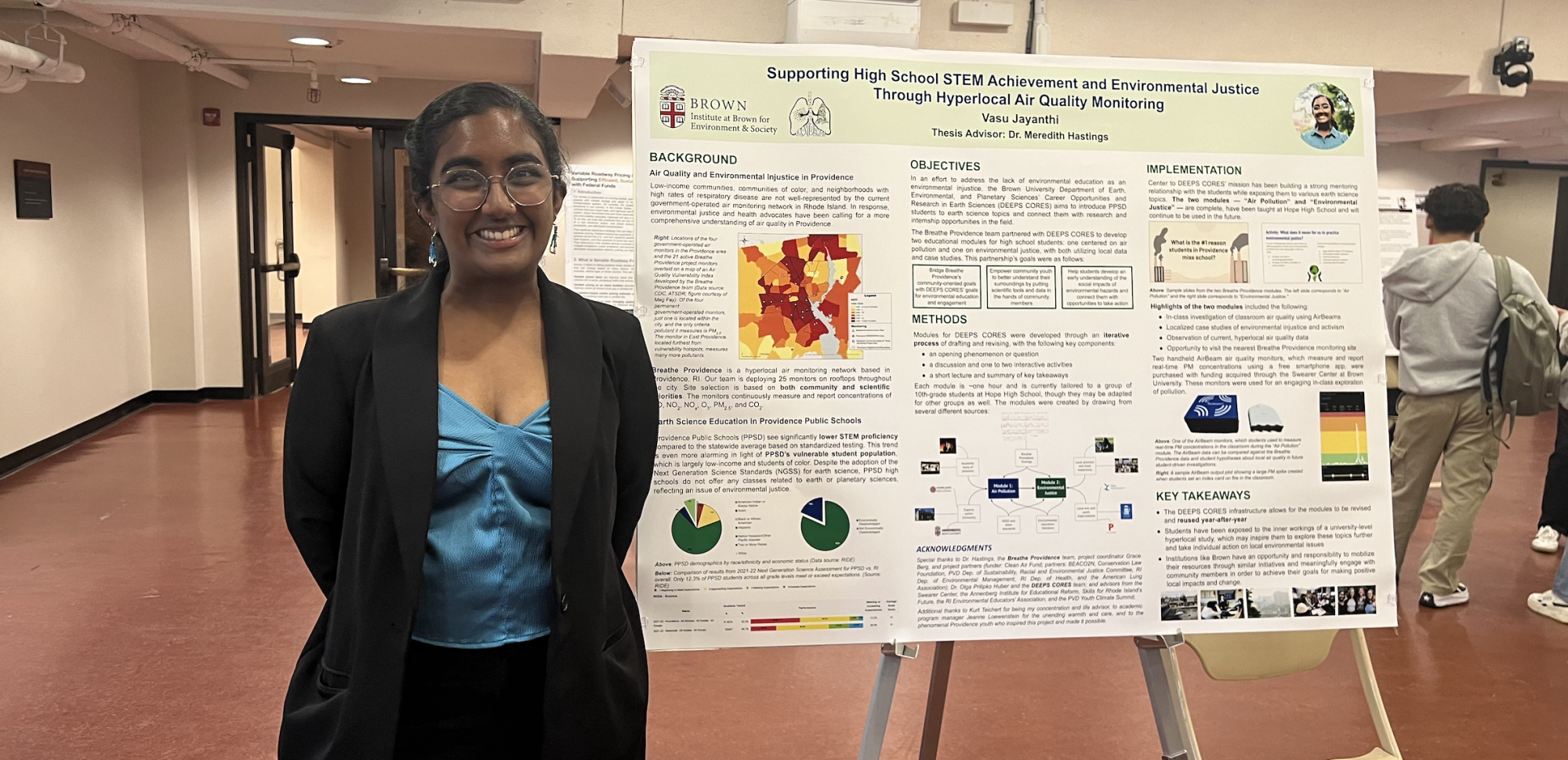 By using data from Breathe Providence's air monitors, she was able to identify local areas with especially poor air quality. "I saw an opportunity to tackle these problems and try to find a solution through my thesis work," she reflected.
Sharing her knowledge 
Following months of research, Jayanthi was eager to share her knowledge to help others. With support from the University's DEEPS CORES program, she eventually developed and taught a learning module about the interconnectedness of air pollution and environmental justice to Hope High School students in Providence. "It was a great way to tap into this existing initiative Brown has to spread my message," said Jayanthi.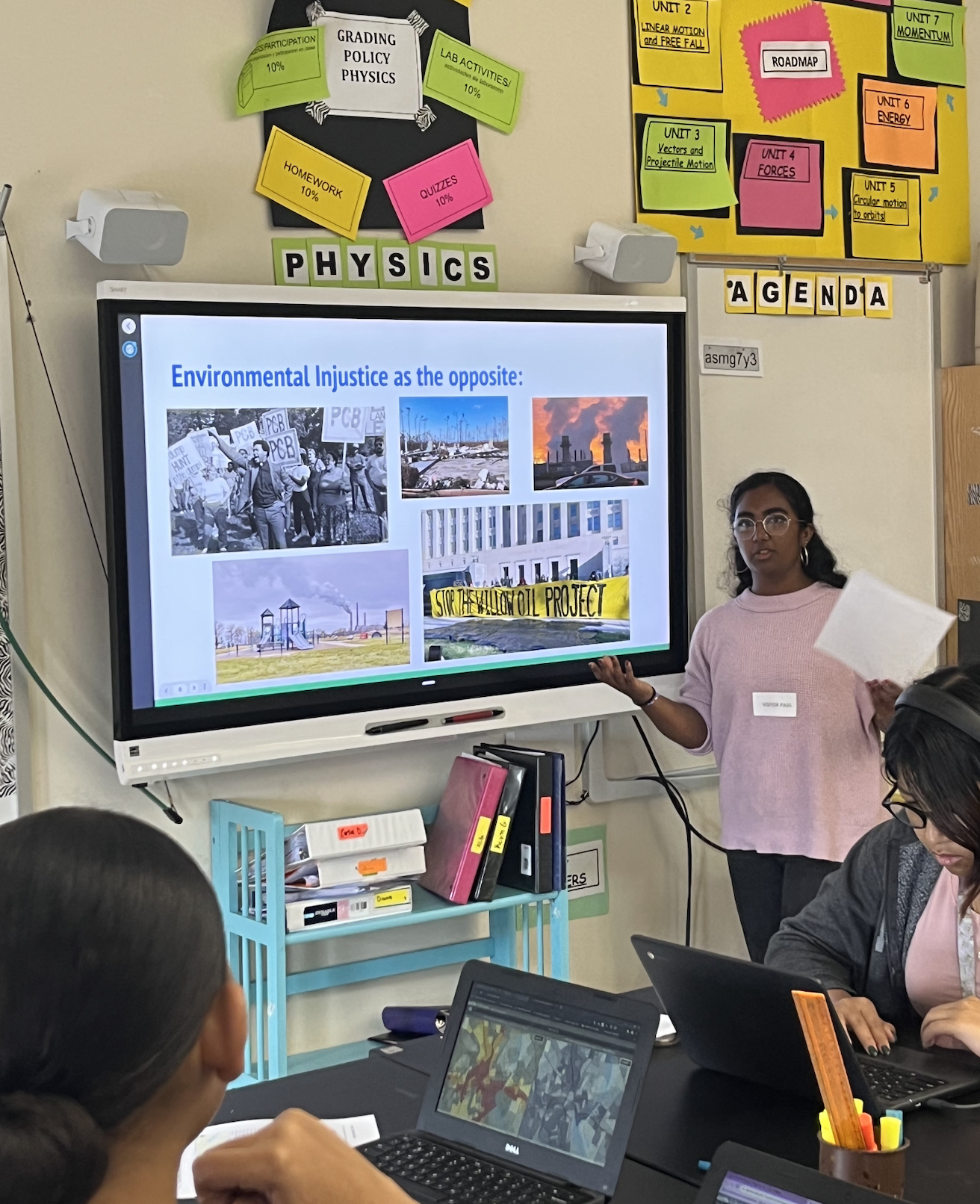 Committed to "knowledge-sharing," Jayanthi also served as an Admissions Office Ambassador, a Meiklejohn Peer Advisor, a First-Year Experience Fellow, an IBES Peer Advisor Leader, and an Undergraduate Teaching Assistant for three different ENVS courses during her time as an undergraduate. 
What does the future hold? 
Elaborating on the value of an MPA in environmental science and policy, she said, "It is important to understand environmental science principles because so much policy is made without a general understanding of these topics." 
In the future, Jayanthi hopes to make positive environmental actions both accessible and tangible. With climate change issues so vast and complex, she worries that people might feel defeated in the quest to find solutions.
"I want to inspire people to take action – in any way – on environmental change and make the environment a priority for policymakers," she said.